PEAC's Annual Meeting
with The Patricia J. Creegan Award Presentation
Took Place on May 20, 2017, 9:30 -1pm
Temple Administration Building
2450 West Hunting Park Ave
Philadelphia, PA 19129
Speaker, Lisa Lightner
Each year PEAC's Annual Meeting are open to all that would like to attend. Keynote speaker Lisa Lightner and The Patricia J. Creegan Award presentation are highlights of the meeting.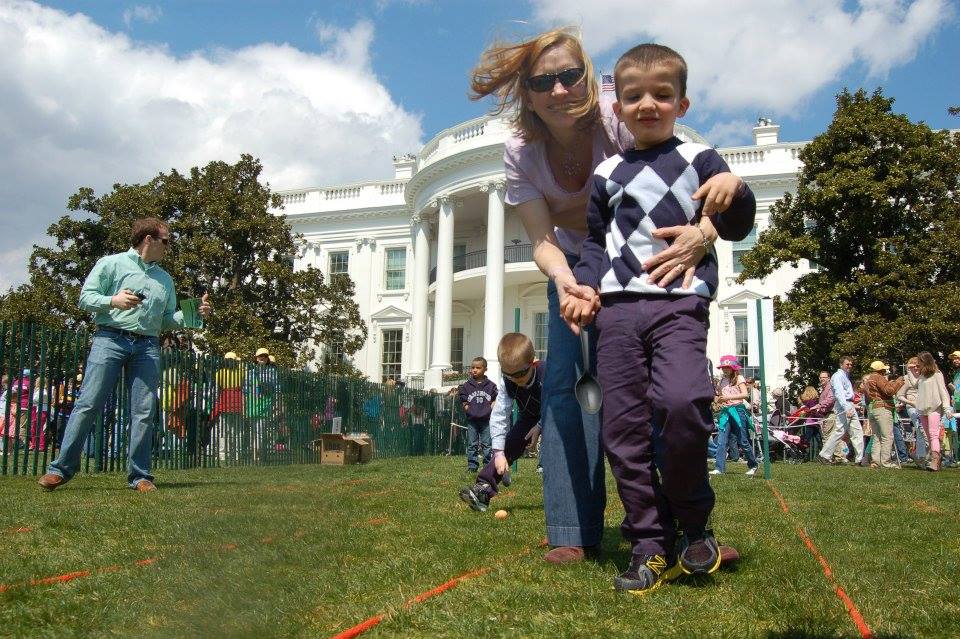 (photo, Lisa Lightner and son)
Keynote Speaker, Lisa Lightner, Disabilities Consultant
Creating a Blueprint to Be an Effective Disabilities Advocate
Lisa Lightner is an award-winning special needs blogger, advocate and lobbyist. She lives in Chester County with her family. Her blog offers IEP advice for parents and reaches thousands of parents nationally. Locally, she has worked for the Arc of Chester County and has volunteered with PEAC. She has lobbied with and for groups like The Campaign for Fair Education Funding, the United Nations Foundation and other internationally known groups.
Get Informed! Get involved!
Changes are happening regarding education so rapidly in these tumultuous times!  How can you stay informed, sift through and decipher the most pressing information, and get involved to make your voice heard?  Lisa Lightner has been advocating and lobbying since she was in college and educating for 6 years. She is active at the local, state, and federal levels and will teach us how to stay in the know.  Come learn about being an effective advocate!
The Patricia J. Creegan Award
Nominations are now closed.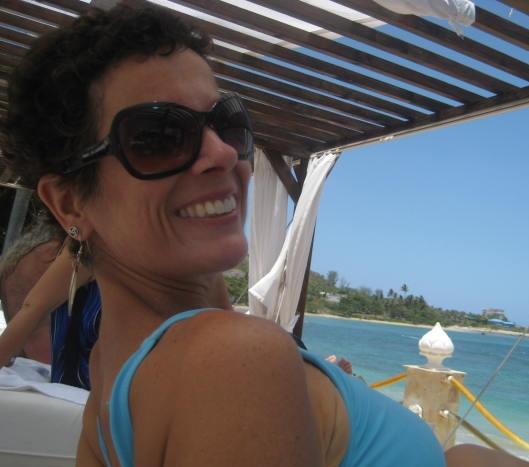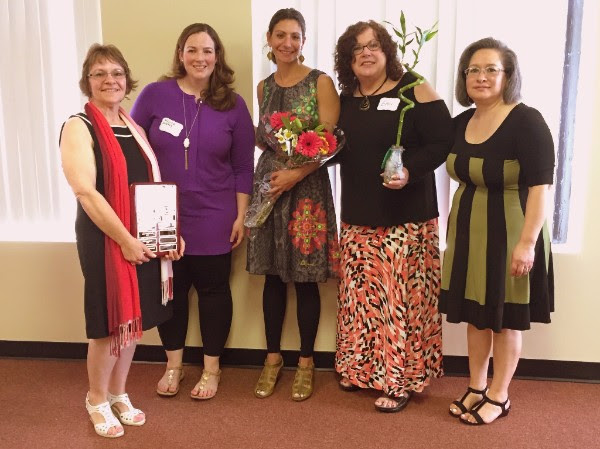 Amy McCann
2016 Winner
pictured left to right: Diane Perry, Melissa Murphy, Amy McCann, Erin Kurpiel, Lily Yazno-Bartle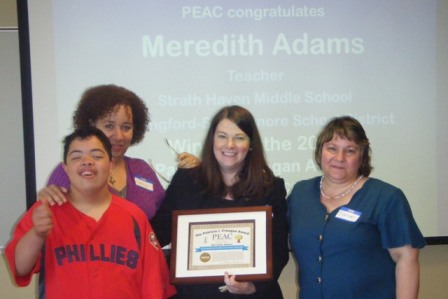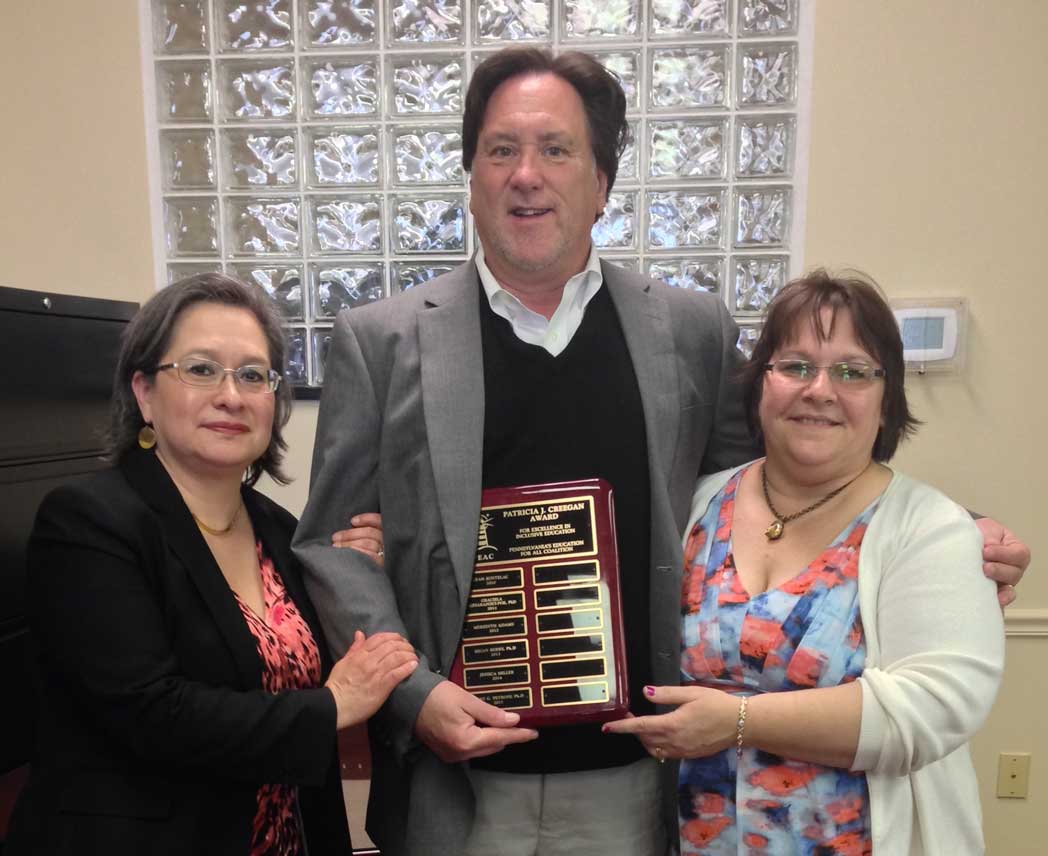 Dr. Brian Berry, Ph D
2013 Award Winner
Pictured left to right: Liliana Yazno-Bartle, Dr. Brian Berry, Diane Perry
The Patricia J. Creegan Award is given annually in honor of the life and work of its namesake, a founding member of Pennsylvania's Education for All Coalition. Patricia J. Creegan, M.S.W., was a passionate advocate for the true inclusion of people with disabilities in all aspects of life as well as an educator, family member, and friend. "Trish" lived her life helping others as well as teaching people to help others, but sadly her life was cut short in 2009 after a valiant fight against cancer. PEAC established the Creegan Award to encourage the continuation of her work. The Award is given annually to an education professional (teacher, administrator, university professor, related service personnel, etc.) who demonstrates outstanding commitment to inclusive education.The winner of the Creegan Award receives a certificate, an honorarium, and a one year PEAC membership. The award ceremony is held at PEAC's Annual Membership Meeting.
Past Creegan Award winners:
2016 Amy McCann, Friends School Haverford
2015 Jerry G. Petroff, Ph.D, The College of New Jersey
2014 Jessica Miller, Manheim Township School District
2013 Dr. Brian Berry, Ph.D, Holy Family University
2012 Meredith Adams, Wallingford-Swarthmore School District
2011: Dr. Graciela Slesaransky-Poe, Arcadia University
2010: Leah M. Kostelac, Washington Heights Elementary School, West Shore School District
2017 Annual Arc Membership Meeting and Family Fun Day
Saturday, May 20, 2017 11:00 am – 2:00 pm
Temple Administration Building, 2450 West Hunting Park, Philadelphia, PA 19129
After the PEAC Annual Meeting, we invite you to join the Arc of Philadelphia Family Fun Day, held at the same location as our event in an adjacent space. They will be offering a day of family fun as they gather annual, lifetime & new members, celebrate their accomplishments & set the course for the future. Enjoy interactive exhibits, guest speakers, food, games, music, dancing & more! Link to website for more information: HERE Facebook event page: HERE